After wrapping up in Boca Raton, it was time to head North & West to Tampa. I had no idea what to expect; I'd only been to Southern Florida, and people kept telling me "the farther North you go, the farther South you get." Ominous. But I took the overtures with a grain of salt – I knew from the start that not everywhere (and everyone) I visited would share my political or social values. At any rate, I reassured myself that I was headed to the Tampa Book Arts Studio at the University of Tampa, and if anything, I'd have a little refuge on campus.
Upon my arrival, I was greeted by Richard Mathews, professor, veteran printer, and Captain of the TBAS ship. Richard is a very interesting man – he walks fast, talks fast, and his rapidity belied a depth and breadth of knowledge that readily became apparent. Here was someone that had seen and done much more than me – but our interests dovetailed so wonderfully: artist's books, FLUXUS, performative and avant-garde works, small press, and of course, printing. Richard got involved in printing decades ago when he ran a magazine called Konglomerati (also an art collective that shared the printing equipment), and since that time has been stewarding a massive amount of printing equipment. And when I say massive, for what I'd seen in the South so far, it wasn't an exaggeration. Rounding the bend into the studio, which resides in a low-lying, unassuming building on the gorgeous UTampa campus, I encountered over 300 cases of foundry type, a working Intertype from 1925, a Monotype display caster, a Monotype composition caster, an electric Ludlow, two Chandler & Price platen presses, a Vandercook 4, a Vandercook 219AB, a Miehle Vertical, a Hoe Washington hand press c. 1865, and the coup de grâce: a Hoe Washington hand press from 1848 that belonged to esteemed artist J.J. Lankes. Lankes produced illustrations and woodcuts for the works of Robert Frost, among others. Here's the kicker: EVERYTHING WORKS.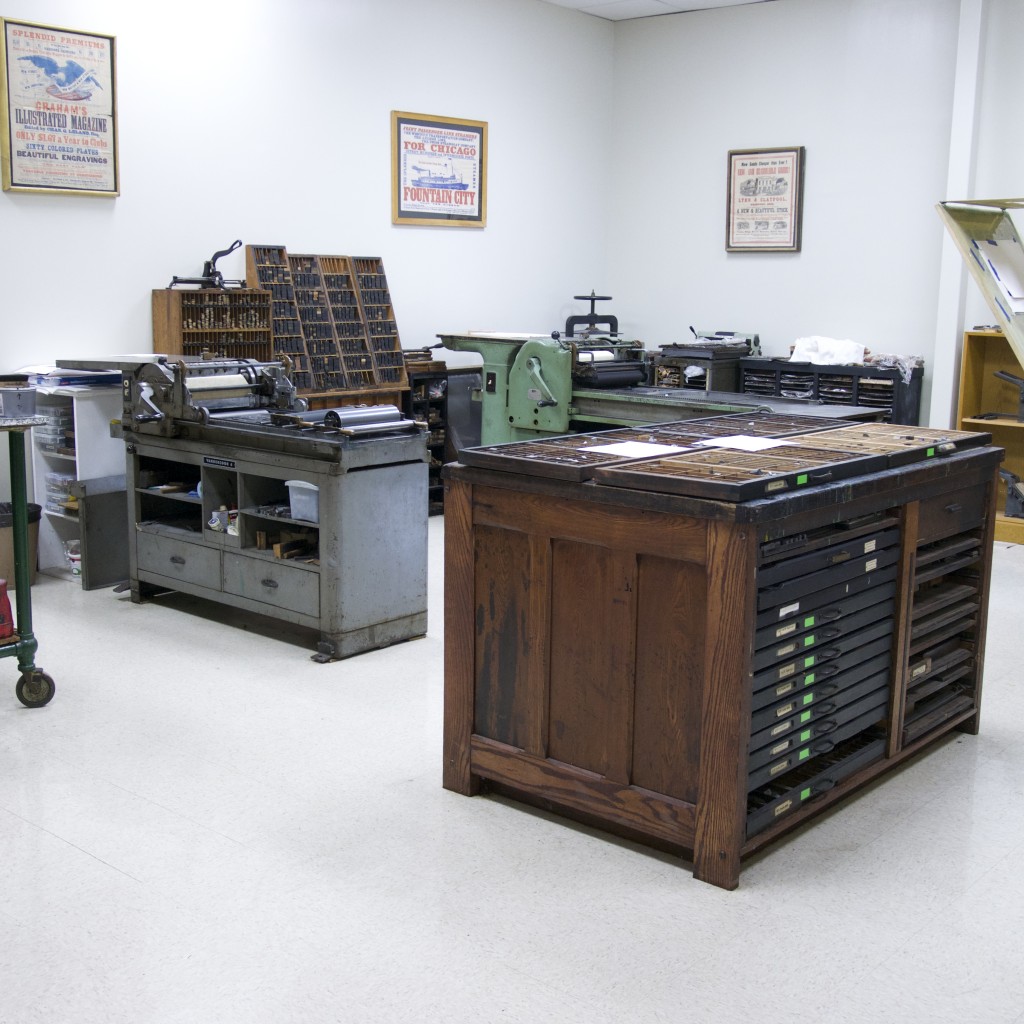 I wandered around stupefied, and was actually a little relieved when Richard and I retired to the office to discuss writing, books, and where my travels would take me next. Richard was careful to mention Carl Nudi, a retired printer who helped around the shop and kept most of the equipment running smoothly. Carl was a member of the International Typographical Union, and the more we talked about it, the more excited I got to meet him.
Flash forward to the following day, when I had my chance – I met Carl in the early afternoon, and we hit up a place on campus for lunch. We talked printing, history, tramp printers, and more as we walked through the drizzle (as an aside, I'd still been sorely disappointed by the weather in FL). When we got back to the shop, Carl showed me cases full of cuts that were rescued from the defunct M.A. Donohue & Co., a publisher that specialized in children's books, some dating from the late 1800s. Richard and he had discussed it, and they thought they would be the perfect cuts to use for an Itinerant Printer project; they were definitely right. Just check out the pics.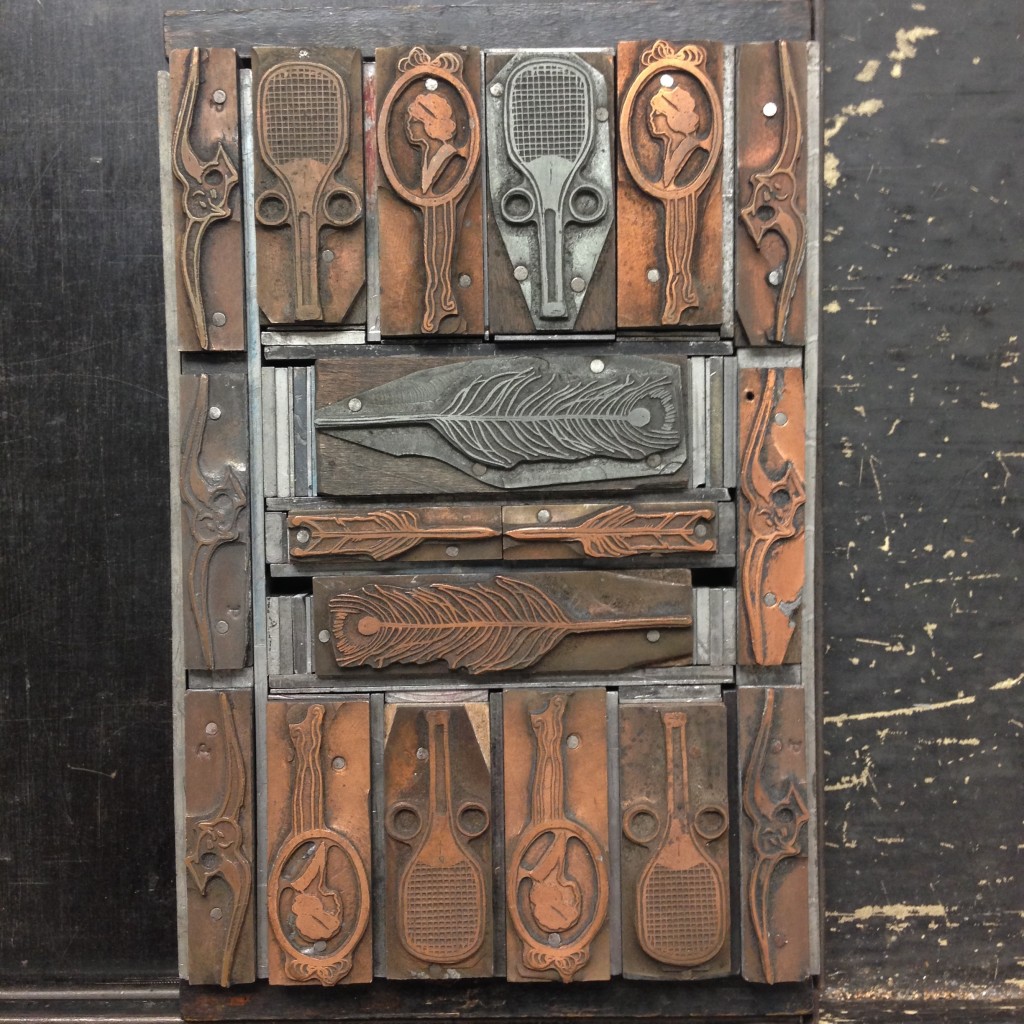 Working on the Vandercook 219AB was a dream, and I used it to demonstrate letterpress for two classes before getting to work on a postcard and a poster. When I wasn't working, I explored Tampa, which is having a bit of a downtown resurgence – they're building a boardwalk along the river to connect a few museums and create an "arts corridor," all of which is visible from the UTampa campus. I didn't stay in downtown, however – I was more intrigued by Ybor City, traditionally the Latin Quarter, and one of the oldest neighborhoods in Tampa. I wasn't disappointed – Ybor City had everything I'm always looking for: skate shops, music venues, great bars and restaurants with great beer. I'd almost forgotten that Tampa had a deep skate culture rooted in the annual Tampa Am contest held at the Skatepark of Tampa. Many of the bars and restaurants had decks hanging on the walls, or were playing skate videos on tvs behind the counter.
I spent more time with Carl over the next two days, and we got to be good friends, so I ventured to ask him about running a stanza on the Intertype with me for the final color on the postcard. He happily obliged. We spent our last day together working on that until late in the evening – the machine was acting up, and I got to see a great, belligerent, honest side of Carl as he cursed the machine while deftly and quickly repairing it. In the end, we cast a great poem together – a collaborative work based on the number of matrices in the Intertype (we kept running out of t's so we discussed changes to the poem), Carl's input, and my original lines. Carl and I said goodnight that evening, but don't worry, he shows up later in this story too. This was definitely the highlight of the trip – I was sad to not get more time with Richard, but Tampa was a wonderful surprise, a learning experience, and a little victory.