In late November, right after launching The Itinerant Printer project, I received a very short, very cordial email from Mika Fowler in Tallahassee, FL, inviting me to visit his little shop, or telling me to let him know if I needed a place to crash on the road. Mika's shop had no formal name, no website, and after a little research I found out that printing wasn't his main trade at all – it was photography. This seemed like my kind of place – small, out of the way, not one of the usual suspects – this is the story of American letterpress that I'm always after. It's since taken on a more substantial life, gotten tons of local press, and been formally crowned as Sangha Press.
I accepted his offer and we worked out the details – we were going to host a Meet & Greet and print demo on Valentine's Day to share the print love (and coincide with a Friday night gallery hop). I didn't know what to expect out of Tallahassee. I didn't know what to expect out of Mika and his studio. But, the gears were in motion and I left St. Petersburg and headed up to the panhandle to see what Northwestern Florida was all about.
Mika's studio is located in an art compound in Tallahassee called Railroad Square; he's been at his current location for 10 years, but Railroad Square has been around for 30. It's a series of outbuildings located near the railroad, former warehouses and other bare-bones structures that served a particular purpose at one time, but have now been renovated to serve as art studios and retail spaces. The little community is vibrantly colored and wildly diverse, it's littered with coffee and vintage shops, photo and pottery studios, a craft brewery, and of course, a print shop.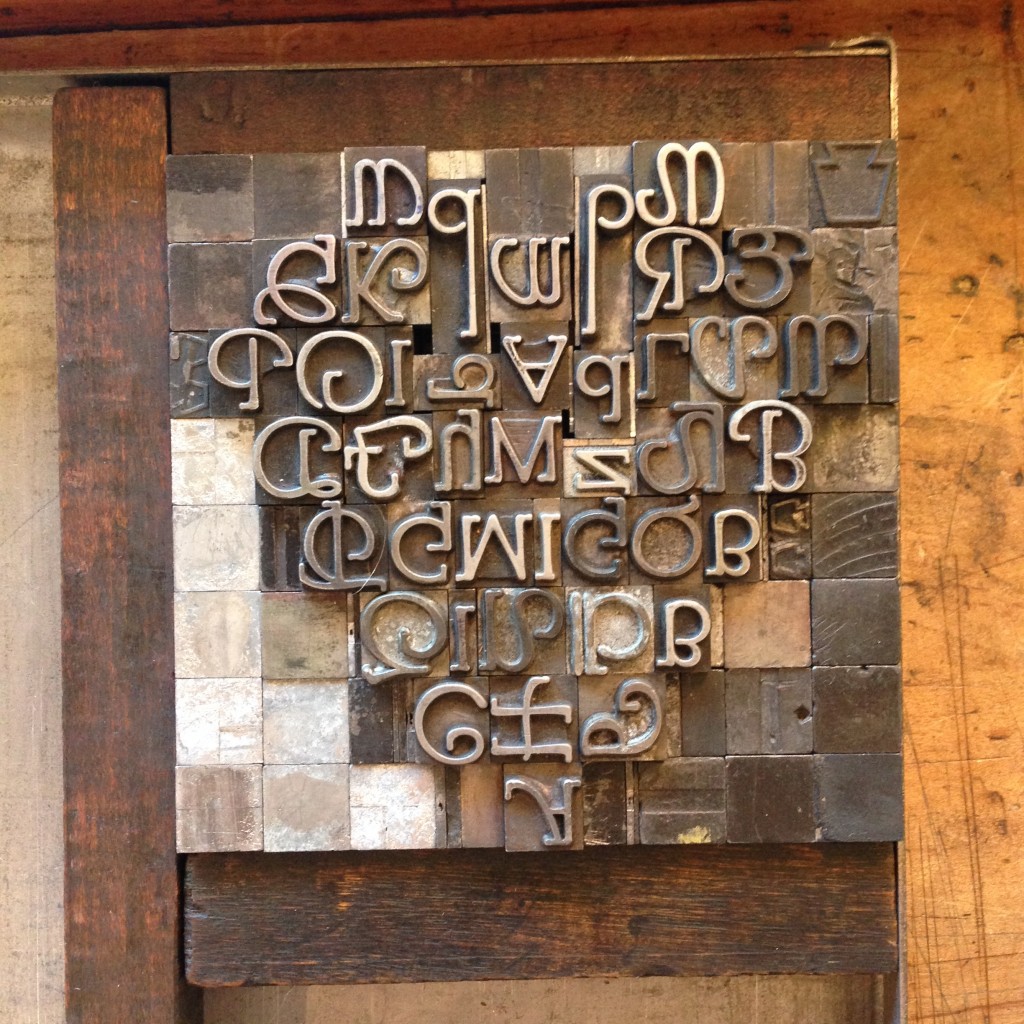 I was happily surprised by the grassroots community and by Tallahassee itself – it's a mid-size city with a strong university presence and a small but tightly knit arts & music scene. The people were generous and inquisitive, and with the help of Mika's partner Helen, we pulled off a fantastic Valentine's soiree complete with food, drink, and a postcard featuring a heart constructed entirely of 36 pt Parsons metal type. Throughout the night, I kept meeting people Mika was working with to enhance Sangha Press – craftspeople who could help repair presses, technicians who could laser cut wood type for him, and other photographers to index it all (hard to print & take photos at the same time). He even runs an informal open studio model/apprenticeship in order to encourage people to participate in letterpress.
Mika's love of print is evident in his diligence – he crafts small-scale projects for himself: cards, books, notebooks, etc. and then he fully executes them working hours a day – it was inspiring to be around someone who had learned so much about a secondary craft and dedicated so much time to it, even if it wasn't a wildly attractive financial proposition. He is straightforward and some might say cantankerous, but we got along well – I can be ornery at times too. It's a good thing we did, because his space is small and packed with a Challenge 1528 KA proof press, a 1947 Dodson 10 x 15, a treadle C & P 8″ x 12″, and a nice 19″ Challenge guillotine cutter.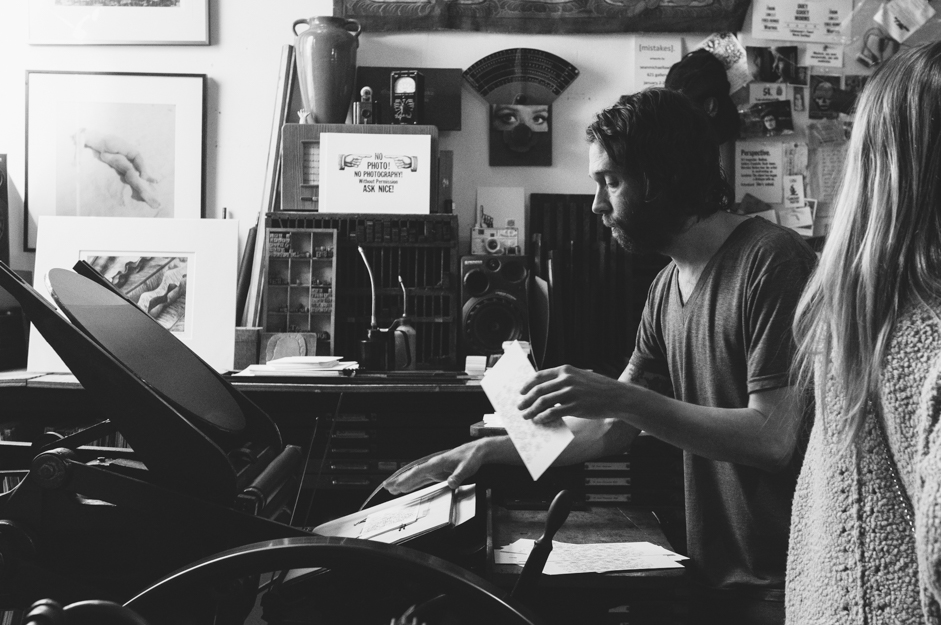 Below check out some pics from the studio, the event, and around Railroad Square. After a few great days celebrating the love of letterpress in Tallahassee, however, it was time to head on to Ashantilly Press in Darien, GA! Additional photo credits go to Alicia Osborne from Alicia Osborne Photography.