"The Ashantilly Press." It just sounds romantic, doesn't it? And it sounds so quintessentially Southern. Well, it's both. Nestled in the tiny town of Darien, GA, The Ashantilly Center (sometimes called "Old Tabby") is a refurbishment of a former plantation originally owned by Georgia planter and legislator Thomas Spalding. The current structure was built quite literally on the ashes of an original home that burned in 1937; what stands now, as well as the notion of The Ashantilly Center, were both ongoing projects of artist William Haynes Jr. and his family. It's an enigmatic property, covered in live oaks and Spanish moss, and one has to wonder how a printshop got there in the first place. Primarily a painter, I was told that Haynes was a polymath of sorts; he took up letterpress printing and it became an obsession, so over the course of a few decades he culled equipment, printed books & broadsides, and laid the infrastructure for the Ashantilly Press. I was lucky enough to visit at the behest of the passionate & tireless Harriet Langford, President of the Board of Directors, and I spent my time in the shop with Master Printer Nicholas Silberg.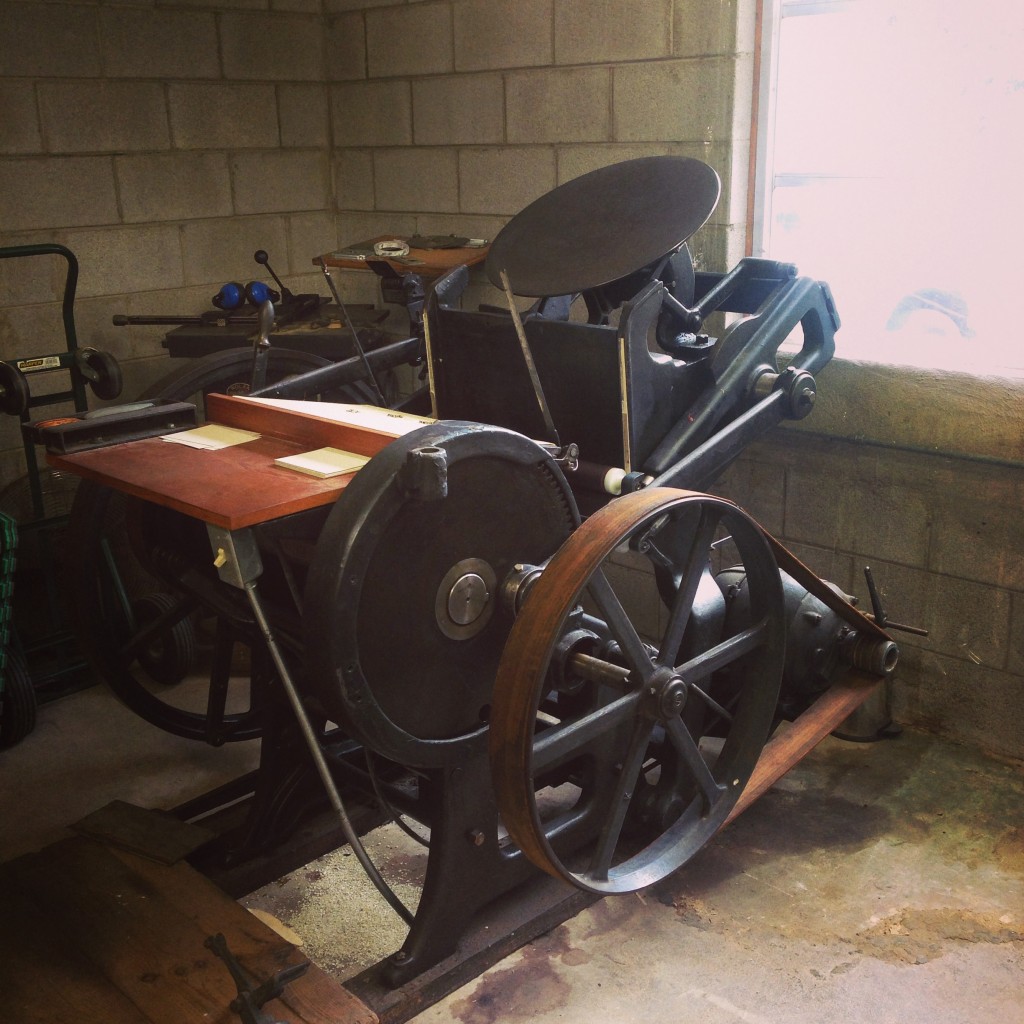 The Press is now housed in an outbuilding on the same property, and it hosts a Vandercook Universal 1, a Chandler & Price 10 x 15, and a Chandler & Price 12 x 18. The studio is as clean as an operating room, and it features large work tables along with dozens of cabinets of type that have been impeccably sorted and organized by the press' stewards, Silberg and board member (and all-around extraordinaire) Sara Blocker. Off-site there's an even greater amount of type and equipment – most of it waiting for cleaning, sorting, and integration into the space. I was really astounded by the collection – as with all the shops on the trip, I had no idea what I'd find, but Ashantilly was just astonishing. I couldn't wait to dig in – there was an abundance of metal ornaments, a unique collection of cuts, and best of all – 3 presses that worked perfectly – including the 12 x 18 that was Haynes' primary press. Inside the home, they also have a Baltimorean #14 tabletop platen press that was Haynes original press. Sometimes working in a legacy shop with a legacy press really gives a deep sense of continuity to printing as a craft, and it also cultivates a sense of gratitude in me for the people that came before and had the prescience to preserve equipment and tradition.
While there I found two magnesium cuts of handwritten pre-Revolutionary War poems, along with a copper cut featuring a map of the region from the same era. I put them both to use on the postcards I produced during my three day stay in mid-February.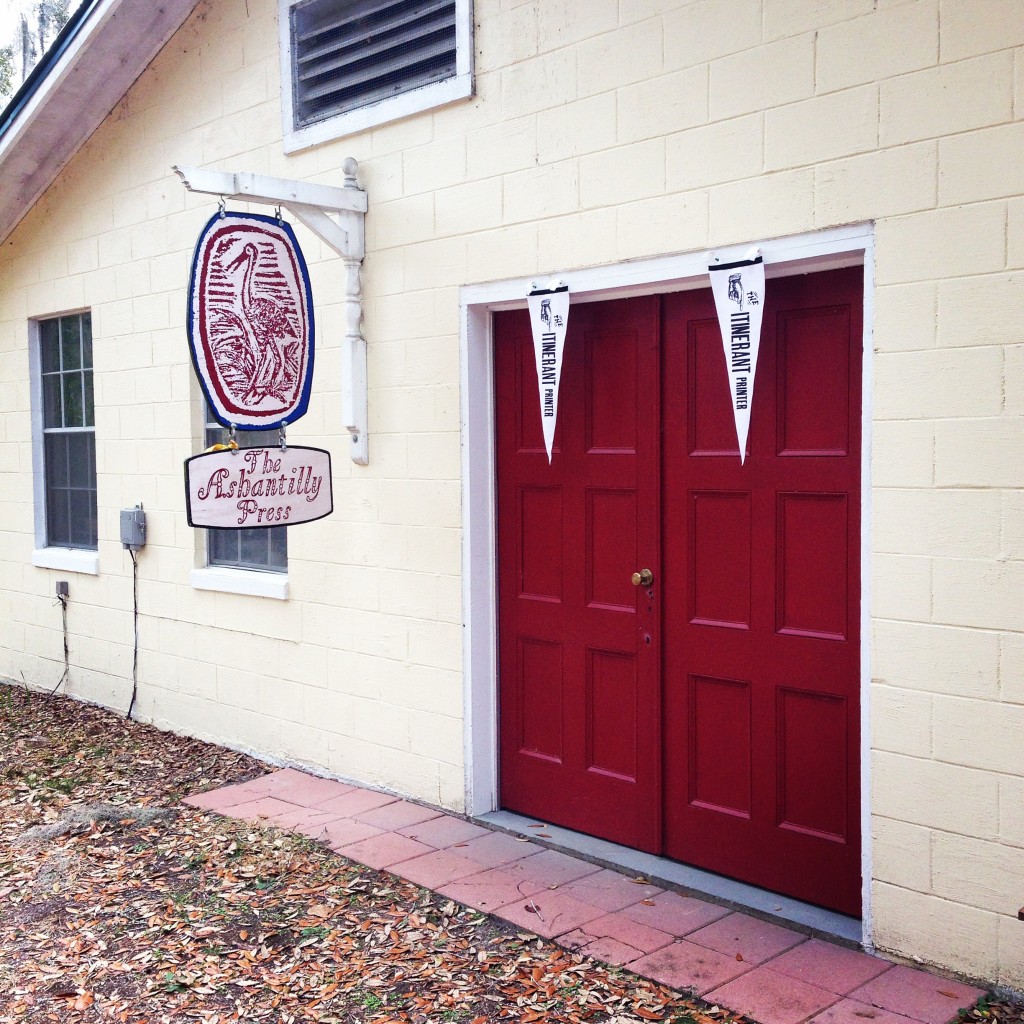 The event at Ashantilly was one of the best-attended on the entire tour so far, and I was happy to be able to introduce so many people to letterpress and to what Ashantilly does – preserve the Haynes' legacy, focus on local and regional education, and the slow, arduous task of rebuilding and maintaining the household. Under the directorship of Harriet, Ashantilly seems on the cusp of a great breakthrough, and I was glad my event could contribute in some small way by bringing people in and getting them engaged.
Harriet & Sara live in an amazing house on Black Island just a few miles away, and they were kind enough to invite me to stay with them during my time at the Press. They're a fantastic team. As we drove through the Spanish moss hanging from the trees down a dirt road on an atypically rainy night, I couldn't help thinking I was getting a very coastal Georgia experience: a complicated landscape & a temperamental climate that almost seems to embody the social & political history fraught with controversy. On the drive, I kept feeling like it was the dawn of something very new for the South in general, especially if the foundation is laid by institutions like The Ashantilly Center, helmed by some of the most generous, thoughtful, open-minded, and resilient people I've met on the trip so far.
I wish that I could tell the whole story here because it's amazing, fascinating, and fueled by the love & passion of a few individuals, like all good stories are. In the meantime, here are the pictures. Take note of the fantastic little typographic figures in the margins of Hayne's book, The Field Diary of A Confederate Soldier!