Birmingham was a delightful surprise, and in many ways, a study in contrast. It's a bastion of progressive thought in the consummately conservative south (e.g.: on my way from Huntsville to Birmingham, I passed through & spent a little time in Cullman, AL, notorious for its historical connection to the Ku Klux Klan), but it still displays deep racial rifts geographically & economically. I had one more stop before leaving Alabama: Indian Springs School. It would prove to demonstrate this contrast further – but it would also give me a reason to reflect on why I undertook this journey in the first place.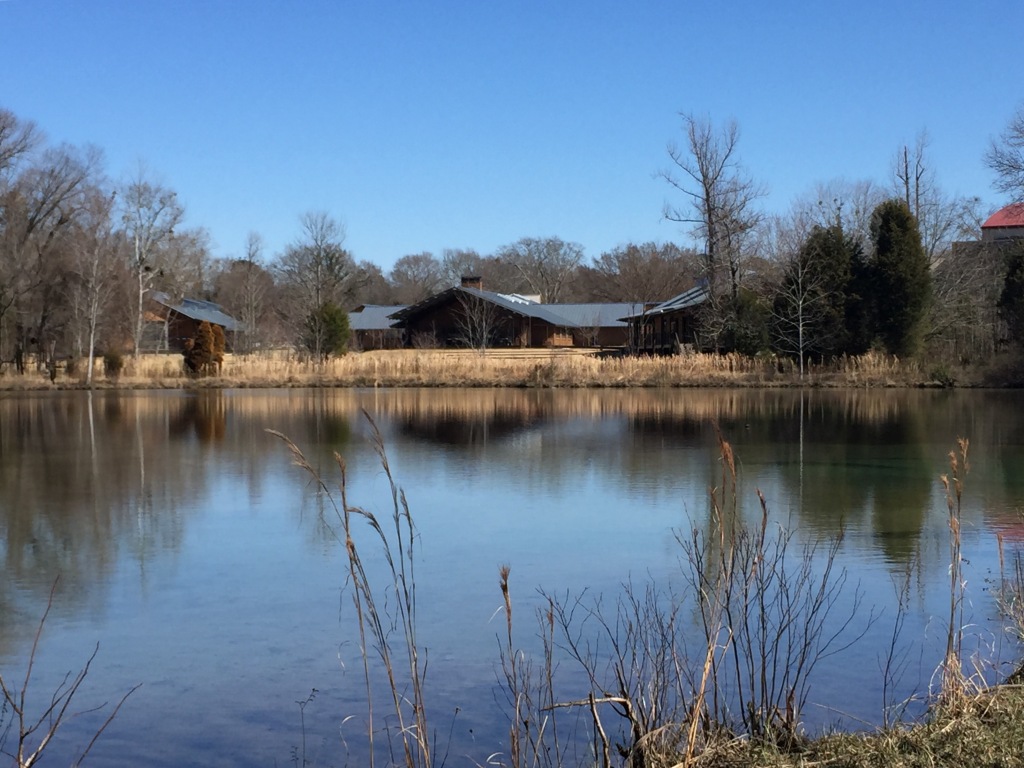 Indian Springs School is the only secondary school that I've visited on the trip – I made the connection through a friend from the SUNY at Buffalo Poetics Department, Jessica Smith. She and I have been friends for almost 20 years; she is an academic and poet, and for the last 5 years she's been doing progressive and unprecedented work in creative writing, experimental literature, and library acquisitions at the school. It's a private boarding school with over 50 years of history – and while it has a strong commitment to diversity and opportunity, it still reflects a level of privilege that only class and financial security normally provide. As I drove to the school, even after a briefing from Jessica, I still wondered what I was in for – was I about to find myself smack in the middle of a bunch of pretentious, coddled, precocious, mostly white teens? Would the snobbery and elitism be palpable? As I unloaded the car, I tried to bracket my prejudices and evaluate as objectively as possible. It was brisk and cold. The unseasonable weather was following me around the South, so I braced myself for the wind and hauled the work I'd done on the trip so far, some previous work in portfolios, and a Kelsey 3 x 5 tabletop platen press (borrowed from The Southern Letterpress) into the auditorium where I would be presenting.
It was early on a Monday morning, so I got to witness a Town Hall Meeting that features presentations to the entire student body from the Mayor and Commissioners, all student-elected officials that help run certain aspects of the campus (recycling, event planning, etc.). I can only say that I was awed at the level of respect that the general body gave to the presenters, and the incredible level of elocution & poise the officers demonstrated. Albeit under very controlled circumstances, I couldn't help thinking: "what if all government ran so smoothly?" I was scheduled to follow the Town Hall Meeting as part of Indian Springs ongoing Art Fuels lecture series – so the moment it wrapped up I trotted my portfolios and the little press out on the stage to a diminished audience of about 30 students.
I opted out of using the podium and drew the students in close as I gave them an overview of tramp printing, and then more generally, letterpress printing. They perused the prints I'd put out as I spieled, but I knew that it was difficult for them to understand how they were made without a demonstration – so I pulled the press over, inked it up, and invited them all to take a turn making their own print. They were excited, they were observant, and they were terrifically quiet. I couldn't sense if it was a bad thing, but once they'd finished printing, they looked at the prints again, and then the questions came – how were certain prints made, why were certain colors chosen, where did all the elements come from – I was happy to see they really were paying attention. Too soon, it was time to wrap up in the auditorium so that I could speak to an Experimental Literature class and an Entrepreneurship class. Two things that are right up my alley, if I do say so myself.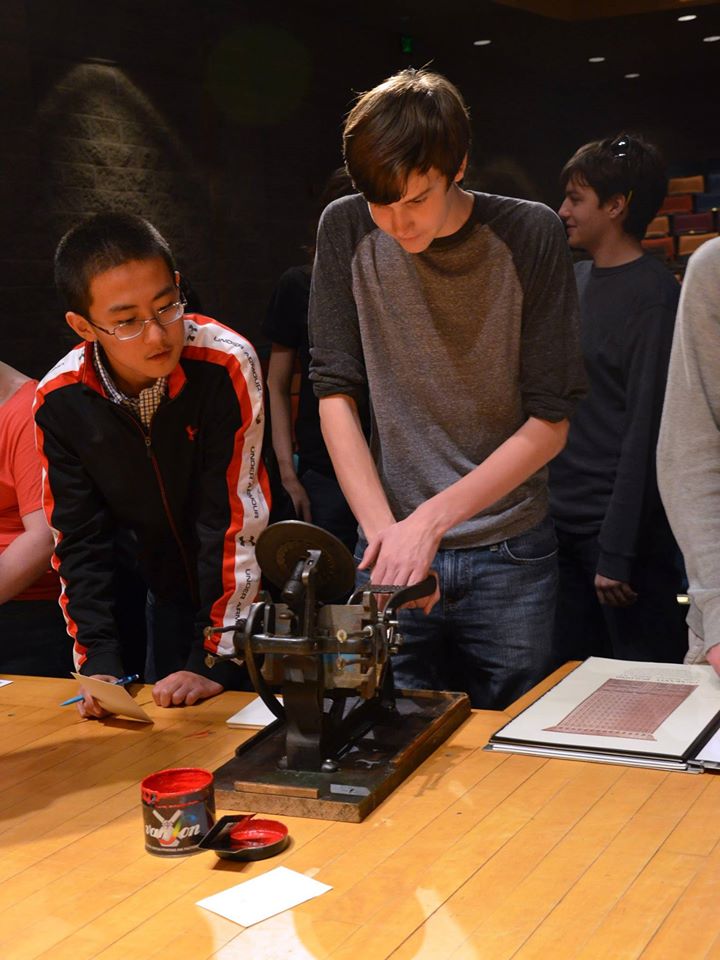 So far I'd been impressed by the students' self-control and ability to articulate themselves, but with their access to resources, it was to be expected – I knew that in the classroom setting I'd be able to get a better sense of their personalities and proclivities. The classes met together, and because many of them weren't at the earlier presentation, I reviewed the history of itinerant printing, what had led me to undertake the project, the initial crowdfunding campaign, and how I had started letterpress printing as a poet, writer, and book artist. I spent the rest of the time answering their astoundingly insightful questions, but asking questions of them as well – what they intended to do with the information I gave them – were they interested in cultural organizing? writing & publishing? building small businesses? what kind of models appealed to them? And so we wiled away the time, and I wrapped up my day, and packed up my car.
As I drove the winding roads away from Indian Springs, I thought about spending time at DISCo in Birmingham, and how their model was designed to provide underprivileged communities with access to creative resources, and how my experience at Indian Springs was at the opposite end of the spectrum – instead of a small shop in a transitional neighborhood whose doors were open to everyone, I'd been to a private boarding school in the affluent suburbs with a closed campus that had a security guard at the gate. While the experiences were so wildly divergent, I couldn't help but leave Indian Springs feeling that the students were being given serious lessons in leadership, citizenry, diversity, equal opportunity, and entrepreneurship. And while their experience might not be one of economic or class struggle, perhaps they'd leave their cloister to actuate what they'd learned, and try to manifest inclusivity in the wider world, albeit via the intellectual lessons of their exclusive circumstances. I also thought to myself that this distribution of resources was nothing new, and while I might bemoan it, I should focus on doing my small part to express to students of all ages the egalitarian nature of print and my project, and the necessity of keeping an open mind.
After another night staying with Jessica, I headed out to Jackson, MS where I visited Thimblepress, a veritable powerhouse in the Etsy/DIY/Craftculture movement, where I'd learn quite a bit about what it means to run a boutique design & letterpress business in the modern age. This wasn't before I received terrible news from home about a close friend – something that reminded me, incontrovertibly, that although I was on the road, life everywhere else was humming along, and life at home, where most of the people that I love and care about are, was no different. The road was lonely from the start, but the trip from Alabama to Louisiana felt more lonesome than before, and I had to come to terms with my helplessness while traveling – it's cliché, but even in the era of technological co-presence, it's impossible to be in two places at once.