Leaving the unlikely idyll of Huntsville, AL, where I visited Green Pea Press and the bustling Lowe Mill Arts & Entertainment building was tough; it was the kind of place you could sink into like an old (but culturally productive) couch. But, the auspicious itinerary lay out before me, and the next opportunity was a unique one – to visit the same letterpress shop in a different city. Say what? Welcome to the bifurcated universe of The Southern Letterpress.
The Southern Letterpress, as I intimated in my previous post, is an amorphous, energetic, and ambitious endeavor co-helmed by Jessica Peterson & Bridget Elmer. While in Florida, I visited Bridget's arm of the press in Gulfport, and now it was time to see what kind of space Jessica had carved for herself in the landlocked rail hub of Birmingham, AL. I had a feeling that despite the similarity in name, it would be a study in geographical & social contrast – a different state, different terrain, different audience, and a different pilot. By this time on the trip, I was getting the familiar feeling that I'd both be right & wrong at the same time. The weather stayed unseasonably cold & grey as I rumbled through the roughshod Woodlawn neighborhood toward the Desert Island Supply Co. (affectionately called DisCo) that housed Jessica's iteration of The Southern Letterpress.
DisCo labels itself as a "creative writing center for students" but it's so much more than that – it's a thematic space based loosely on the concepts behind 826 Valencia in San Francisco & the Austin Bat Cave that gives children a chance to explore creative opportunities well beyond words on the page; they facilitate classes in bookmaking, zine-making, and even work with students on school newspapers & audio/radio storytelling. The Southern Letterpress was a fantastic partner, providing most young writers with their first introduction to letterpress, typography, and the history of the printed word. In addition, DisCo has a retail component, a general store of sorts, where students, artists, and art aficionados can purchase prints, cards, supplies, and other olio, again, a great trifecta of cultural production (The Southern and other printers sell their work there), cultural appreciation, and cultural consumption. The space is aesthetically attuned to exploration, covered in maps, mounted fish, fraught with books about geography, speckled with curious artifacts and the detritus of a ship's deck: hemp ropes, block & tackle, the occasional spear. In many ways, it reminded me of an exploded view of a cranky Captain's quarters during the great age of oceanic wanderers. But, back to the reason we're here: letterpress.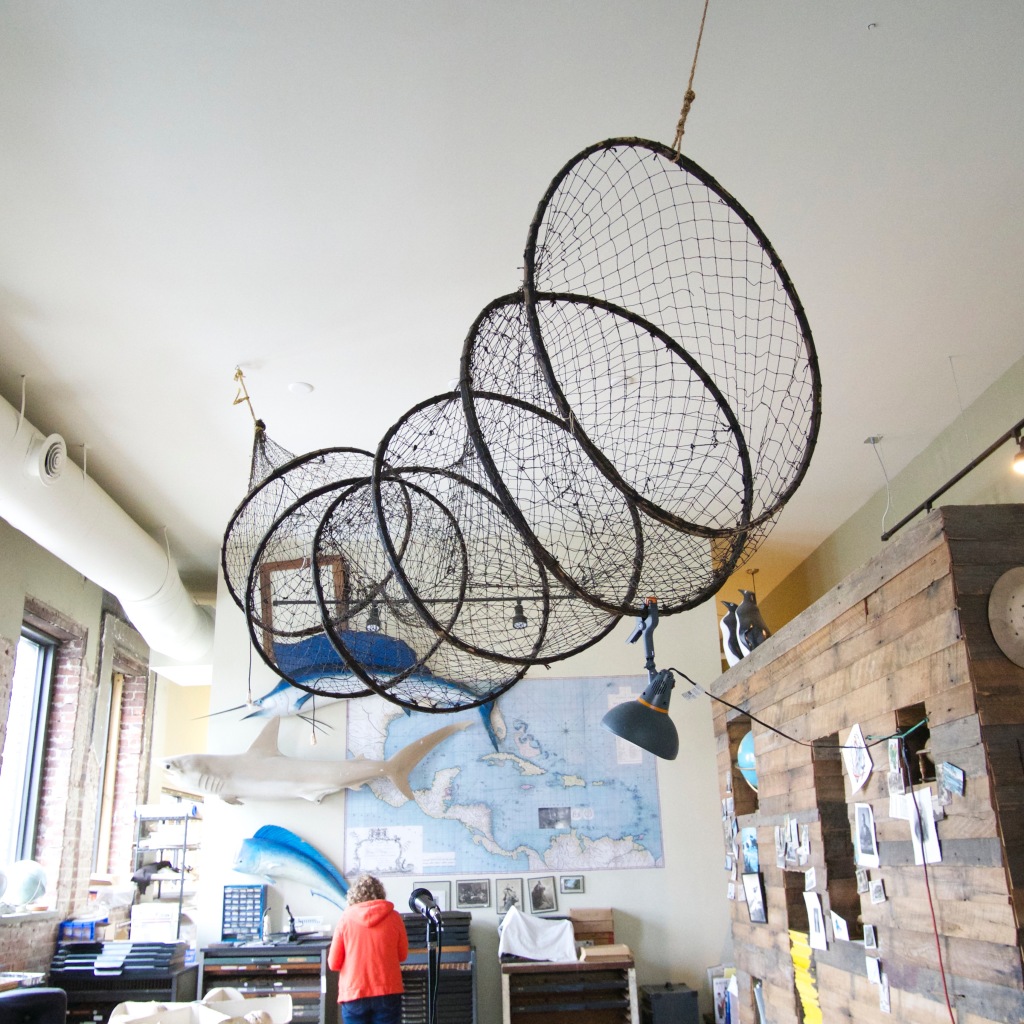 Jessica has culled an amazing array of cuts over time, including a bunch for the "Straight Edge" flour company and a love-it-or-leave-it font of 6-line Hobo wood type. All told, her Vandercook SP15 is accompanied by half a dozen type cabinets and over 100 cases of assorted metal & wood type. She's also in possession of a 3 x 5 tabletop press that she was kind enough to lend me for my trip to Indian Springs School – but more on that next installment.
I wanted to showcase the Hobo wood type, along with some geometric 12-line Gothic – but it seemed a shame to leave the interesting cuts out. I sifted through them, proofing most of the unique ones, but finally settling on a ticket for the circus that a person could purchase for an orphan. It seemed like a cut with a story – from a time when charity was a thing passed from a generous hand directly to a hand in need – whether it be legal tender, clothing, or some other object. As I read the unfamiliar & uncouth language on the ticket, its motivation & modus operandi seemed a far cry from the wild separation maintained now in charity – where at the click of a digital button, ones & zeroes are shifted, and "money" is transferred from one account to another, with only a facile understanding of the need at the other end of the wire. Or in a foreign country.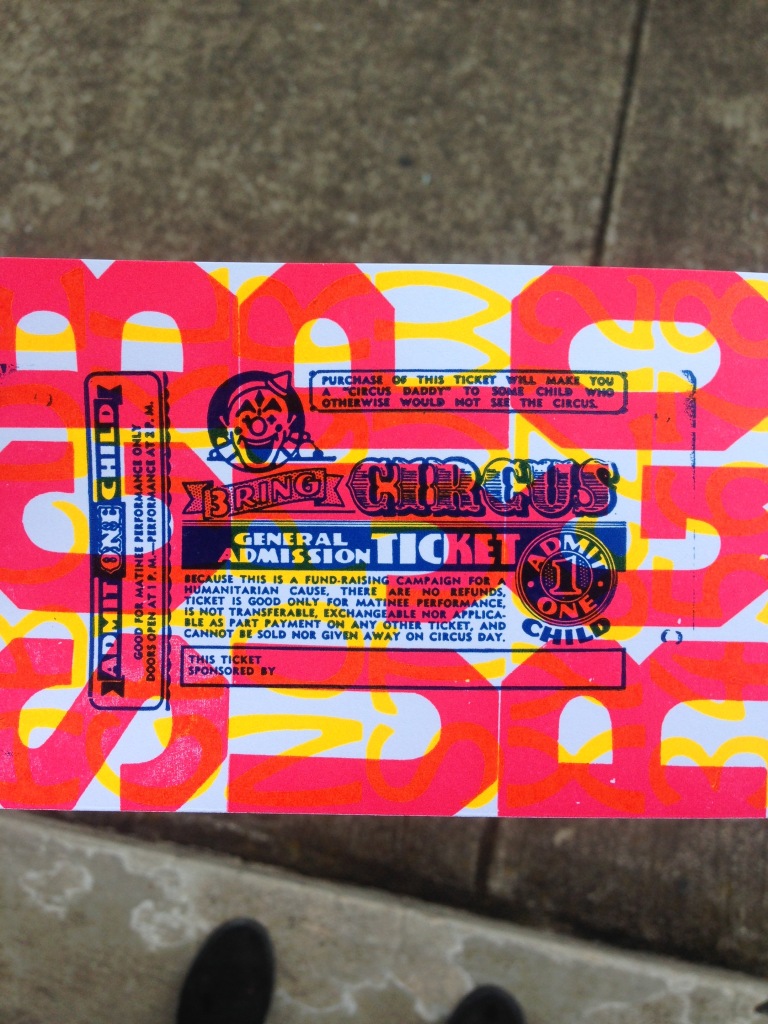 As I wrapped up a cozy & intimate event at DisCo, people were filing in for a small concert. I decided to stick around, and as I watched a few dedicated musicians play to a few dedicated people in the crowd, I thought about how I hoped that's what The Itinerant Printer project could restore: not our connection between those who give and those who receive charity, but between those who make art objects and those who receive them.
Soon after my visit to The Southern Letterpress in Birmingham, Jessica pulled up roots and headed to New Orleans to begin a new adventure. The NOLA version of TSL is up and running, doing well, and as I hear it, feels quite comfortable & excited about this next chapter. Looks like I'll have the chance to visit the "same" letterpress shop in 3 different cities if I get back down to NOLA – but chances are that won't be for a little while. Check the gallery below for all the pics of TSL and DisCo!