After leaving the idyllic coastal islands of Georgia, I made my way north to the progenitor of indie cool as we know it – Athens. Home to seminal & influential bands like R.E.M., The B-52s, Widespread Panic, Neutral Milk Hotel, and dozens of others, Athens was the cynosure of college rock that exulted DIY & grassroots culture in a contagious way that spread throughout the U.S., then the world. I'd never been there. I had no idea what to expect – but I had some preconceived notions that it was going to be too-cool-for-school, full of a bunch of disaffected, frigid elitists resting on the laurels of a city they inhabited, regardless of whether or not they contributed to the cultural shockwave it initiated. If that sounds harsh, it isn't meant to – it's just that I thought Athens had the potential to be like one big indie record store where the clerks are really annoyed that you're even there. What I found was wildly different.
I arrived at Smokey Road Press in the late morning; it's housed in The Leathers Building situated on the train tracks near a hill – but that's redundant because it seems like everything in Athens is on a hill next to the train tracks in a repurposed industrial building. Smokey Road Press is run by the tacitly optimistic Margot Ecke; a graduate of R.I.S.D. and Cornell, she's a powerful intellectual force without being a boorish know-it-all – in fact, quite the opposite – I watched as she listened to everyone around her in a careful, considered way, and formulated calculated, empathetic, hand-tailored responses. I recognized immediately that that's what made her a fantastic mentor to the many young women who apprentice in her shop. Smokey Road Press is a sole proprietorship that does client work, facilitates workshops, hosts open studio time, engages interns & apprentices, and even has a built-in retail component. It's a well-devised model with a few eggs in a few baskets, and the diversity seems to keep it fresh, inclusive, but more importantly, reasonably stable.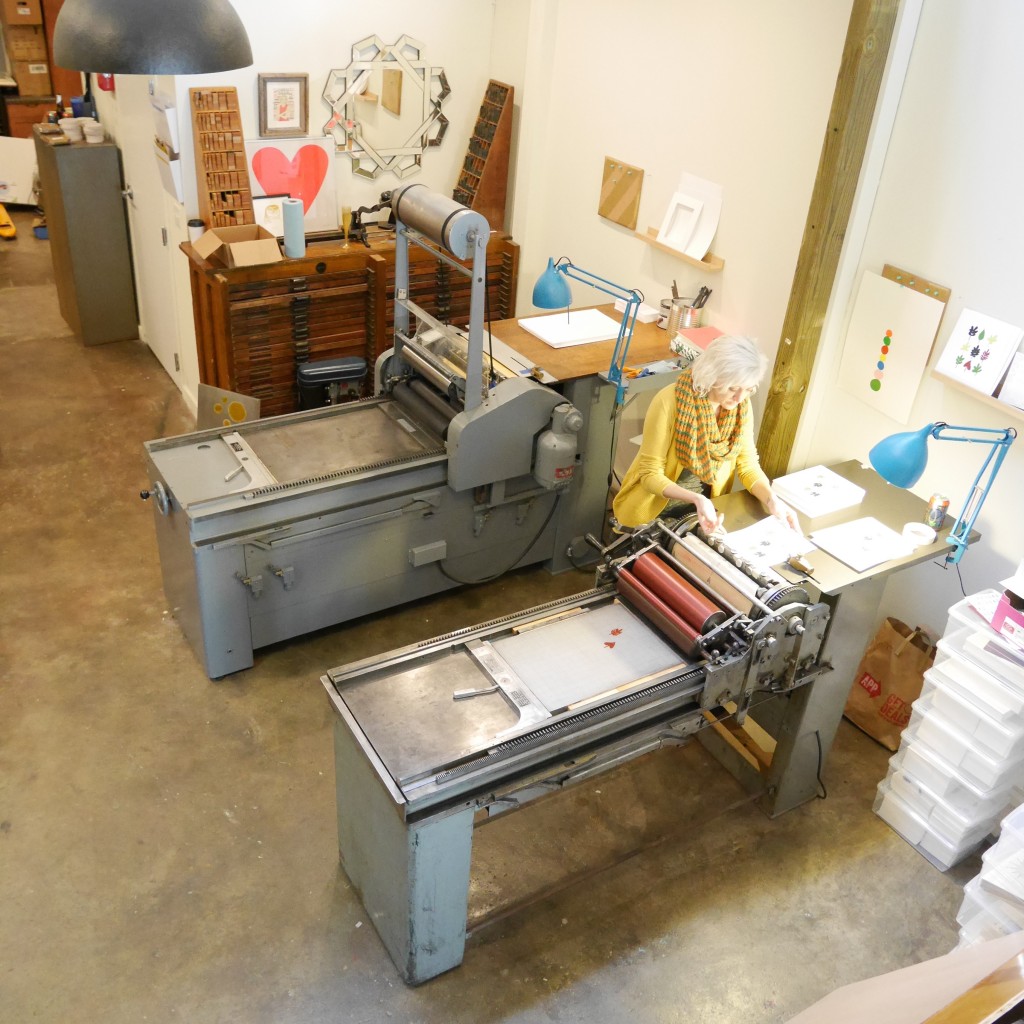 The collection at the studio is impressive – 3 Vandercooks (a Universal 1, another Universal 1 with tower & adjustable bed, and a Universal 3 with tower & adjustable bed), 4 Chandler & Price platen presses (three 8 x 12s and one 10 x 15), two Heidelberg Windmills, a Reliance cutter, a huge Seybold standing press, and Rosback perforator, among other bindery equipment. The studio is impressive too – almost cavernous – long, with a huge lofted area for administrative work. Although Smokey Road does the bulk of their work on photopolymer, Margot has culled some metal and wood type. When I was at the shop, I elected to work with some 36pt Gill Floriated Caps that had never been printed and some polymer dots that were scanned from hand-painted circles. In the end, I produced a 2-color postcard with the caps and a 7-color poster piece on the power Vandercook Universal 1 with a return tower. The tower, with only one strap engaged, allowed us to run all 7 colors wet on wet without really touching the page. It's still one of my favorite prints from the whole trip.
After getting the printing out of the way, Margot was kind enough to host a Meet & Greet at the space that was well-attended and full of interesting questions – after spieling for a little while, participants were invited to help run the 7th color on the poster. With all the formalities out of the way, it was time to explore the city (by night and by day) – and what I found was a town that paid homage to its humble cultural beginnings without being pretentious about it.
The dive bars are still divey. They are still cheap. The bars and restaurants are lively but not crowded. I'm sure it hasn't always been this way, but it seemed as though the city had found a balance between keen interest and hype – there were places to go, places with connections to the lauded backstory, but there were just as many "normal" places; it's quite possible this impression is entrenched in the fact that the droves of people that descended upon Athens in its heyday are long-gone, or they've settled in and become part of the fabric of the city.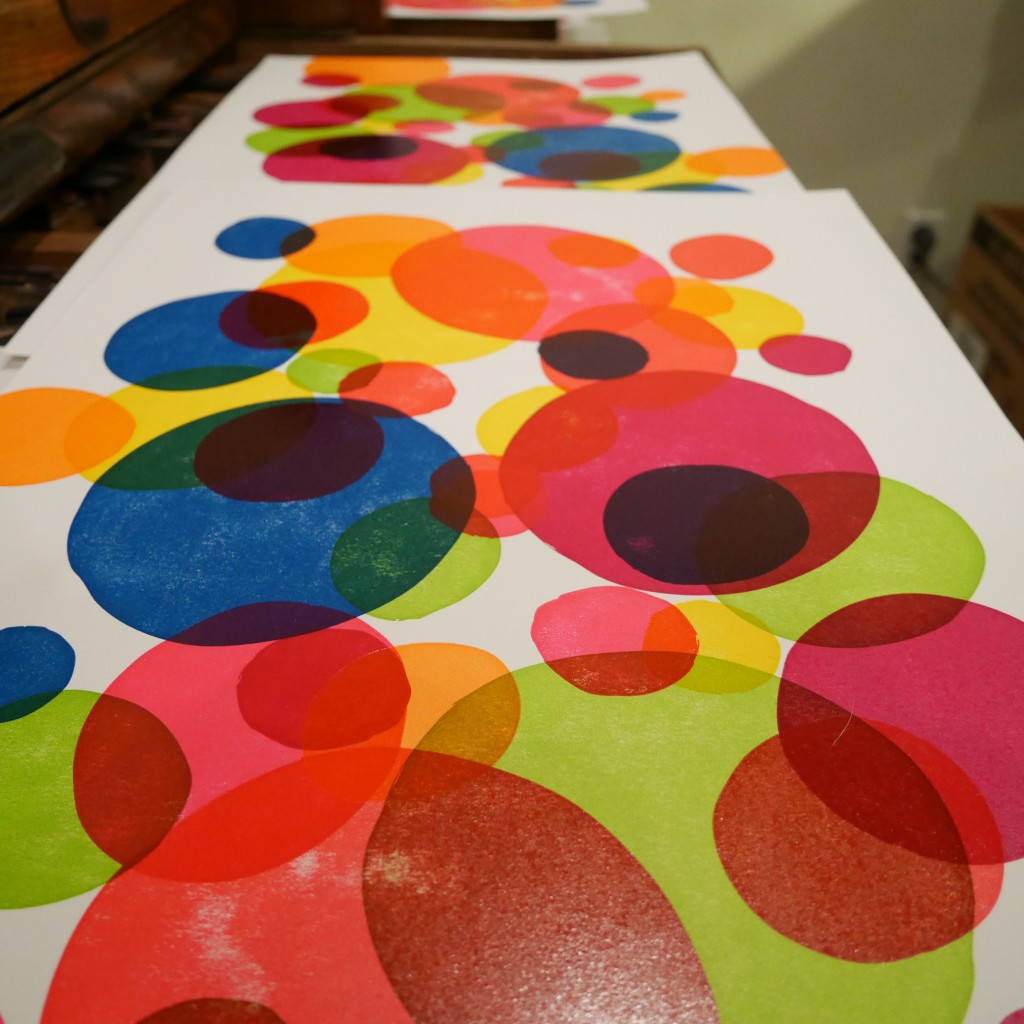 I was happy to see that many of the mixed-use art complexes around the city, even ones created decades ago, were still functioning and full of interesting people & studios; I was even happier that so many people I encountered were warm, welcoming, and genuinely interested in talking about what they did or about my project. It's not meant as a trite generalization – but Athens seems to boast (at this point in time at least) the ability to sustain a creative economy without the usual pitfalls that create the ebb and flow tide that disembowels many mid-sized cities.
It was great to be able to spend time with Margot, but I wished that we had more time to discuss issues surrounding women and printing, feminism, and other things that were quickly becoming important conceptual focuses of my journey. Until next time, it seems, because I had to split for Atlanta Printmakers Studio in Atlanta, GA. Thanks to everyone I met, everyone who came to my event, and to Smokey Road Press for being a bastion of bookmaking and letterpress in a cool city that remains cool.