Atlanta. What did I think about when I thought about Atlanta? Hip hop. The world's biggest Delta Airlines hub. Ted Turner. I thought harder. Nothing really came to mind. The only thing I knew for sure: after leaving Athens, I was headed to Atlanta Printmakers Studio. In my vision of the American landscape, Atlanta was an aporia. It was also the first major city I was going to visit on the trip, after hitting Ft. Lauderdale, Boca Raton, Tampa, St. Petersburg, Tallahassee, Darien, and Athens. I imagined it would feel huge. I wondered what the urban landscape would have to tell me about the story of American letterpress in the Southeast, and also what it would tell me about America.
The city was vast, to be sure, but I was lucky to have an old friend to stay with who had lived in the area for a long time. I pulled up to her quiet house on a quiet street and thought: this can't be Atlanta. But it was. The city is broken up into any number of neighborhoods, each with their own idiosyncratic character (from the tiny brightly painted bungalows of Cabbagetown to the hip shops of Little Five Points to the rowhouses of SoNo & so many more). I don't know why I imagined it as some homogenous behemoth of monolithic modern steel & concrete buildings; maybe it's all I'd ever seen during the b-roll shots while watching Monday Night Football. I also pictured it as a very flat town. My aesthetic and geographical presumptions were quite wrong.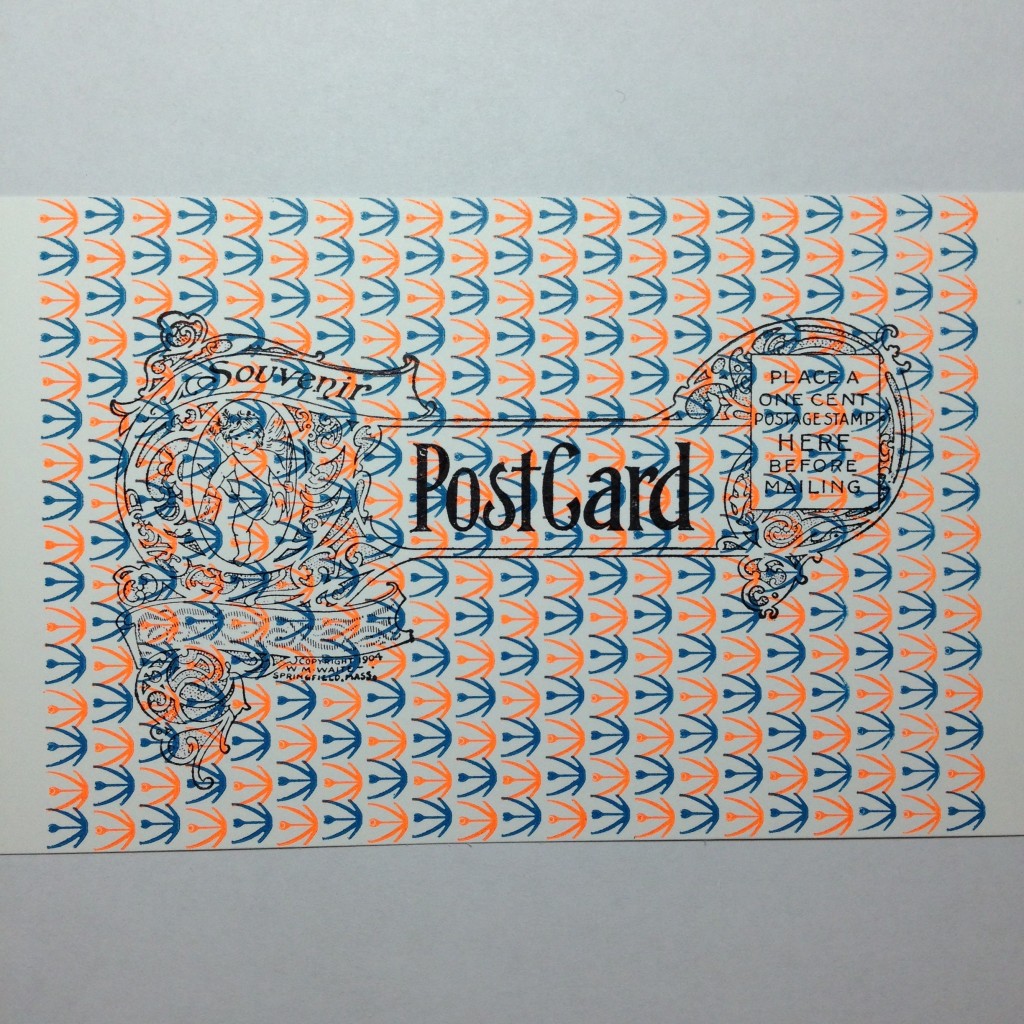 After a night of getting settled in and catching up, I woke to head straight to APS. I acquainted myself with the shop quickly, explored what was available (a Vandercook 215, a Vandercook 4, 3 C & P 10 x 15s, plenty of metal type, wood type, and ornaments). Normally I just pull out a few elements that I'm going to use, but that morning I covered the huge worktables with a cornucopia of type & blocks. I had a workshop that afternoon with the designers from Mailchimp (full disclosure, Mailchimp was a generous sponsor of The Itinerant Printer project). I was excited to share analog techniques with digital artists, give everyone a chance to explore the collection at APS, and help them get their hands dirty. We printed a poster for MailKimp at APS (ever listen to the Serial podcast? It's a little inside joke that was too funny to pass up), and then I set the designers free in the studio to hand ink type & blocks to do some overprinting & monoprints. The workshop was a grand success, with lots of discussion about the basic principles of letterpress that digressed into debate about the virtues of analog problem solving & how it could be applicable to digital dilemmas.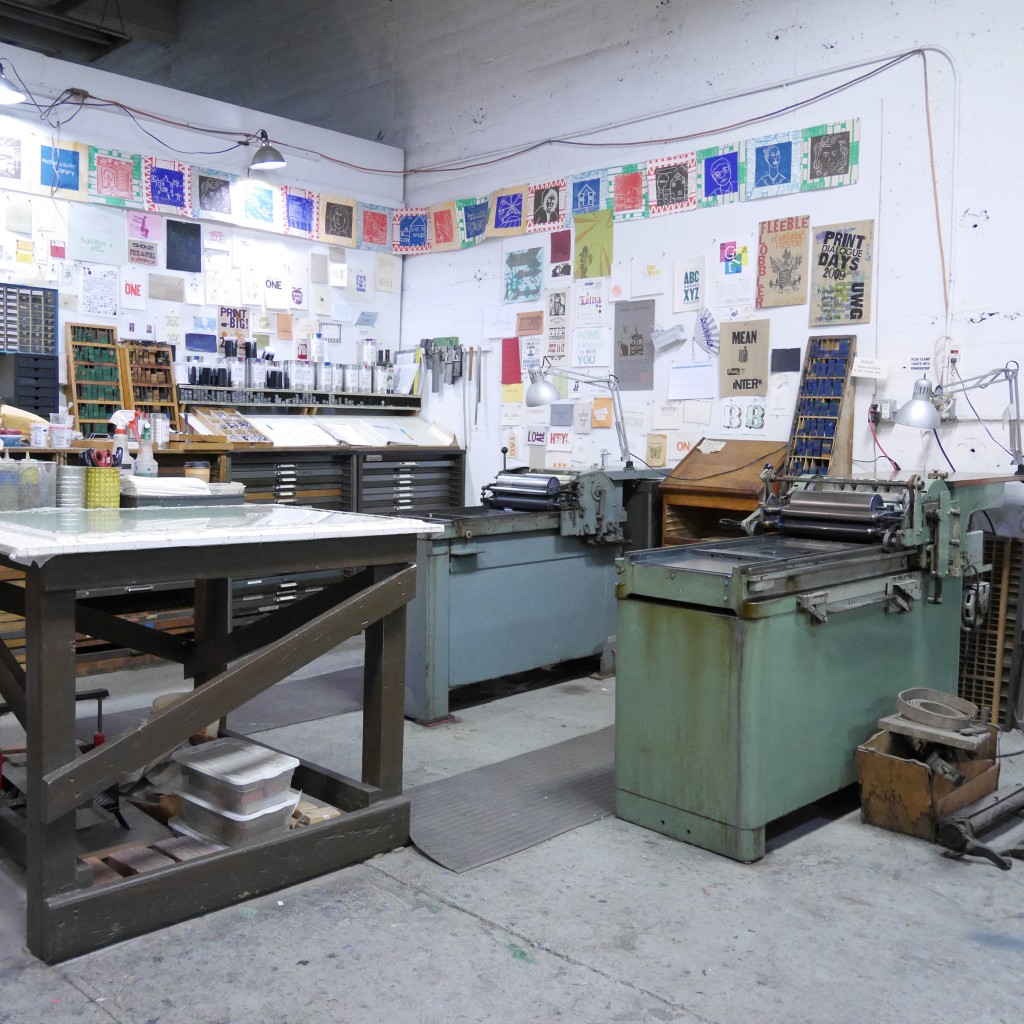 Once I'd bid the Mailchimpers adieu, it was time to get down to work. I discovered cases full of ornaments that had never been used, and a copper cut of a postcard back from 1904 (it even has a spot for a 1 cent stamp) – too good to pass up. I set the ornaments to create a two-color background, then dropped the postcard back on top of it as a foreground; the design was a little tongue-in-cheek, because the back of the card would also have The Itinerant Printer postcard back. Needless to say, APS had a great collection to work with (albeit slightly disorganized, as most community-based shops are), and my spirit guides Jurushia Graham & Brandy Barker were friendly, helpful, and engaged. While I printed over the next two days, I was even able to co-opt a two-day screen printing class and tell them about the project as well.
Before moving on, a little history: Atlanta Printmakers Studio started in 2005 when Stephanie Smith (I was able to visit Stephanie at the University of West Georgia next on the trip), Andrea Emmons, and Kathy Garrou came together to form a group of like-minded artists and develop a non-profit where they could share space, resources, and equipment. It took hundreds of hours of volunteer work, and the face of the studio has changed over time, but it's recently celebrated its 10th anniversary and continues to fulfill its mission as the only community-based printmaking studio in the city.
After wrapping up the print work, I spent the next two days exploring Atlanta, from the astonishingly gorgeous Oakville Cemetery (where I discovered a monument to local printers and members of the International Typographical Union) to adjacent Cabbagetown, even finding time for typespotting forays into local bars with vintage video games & pinball machines.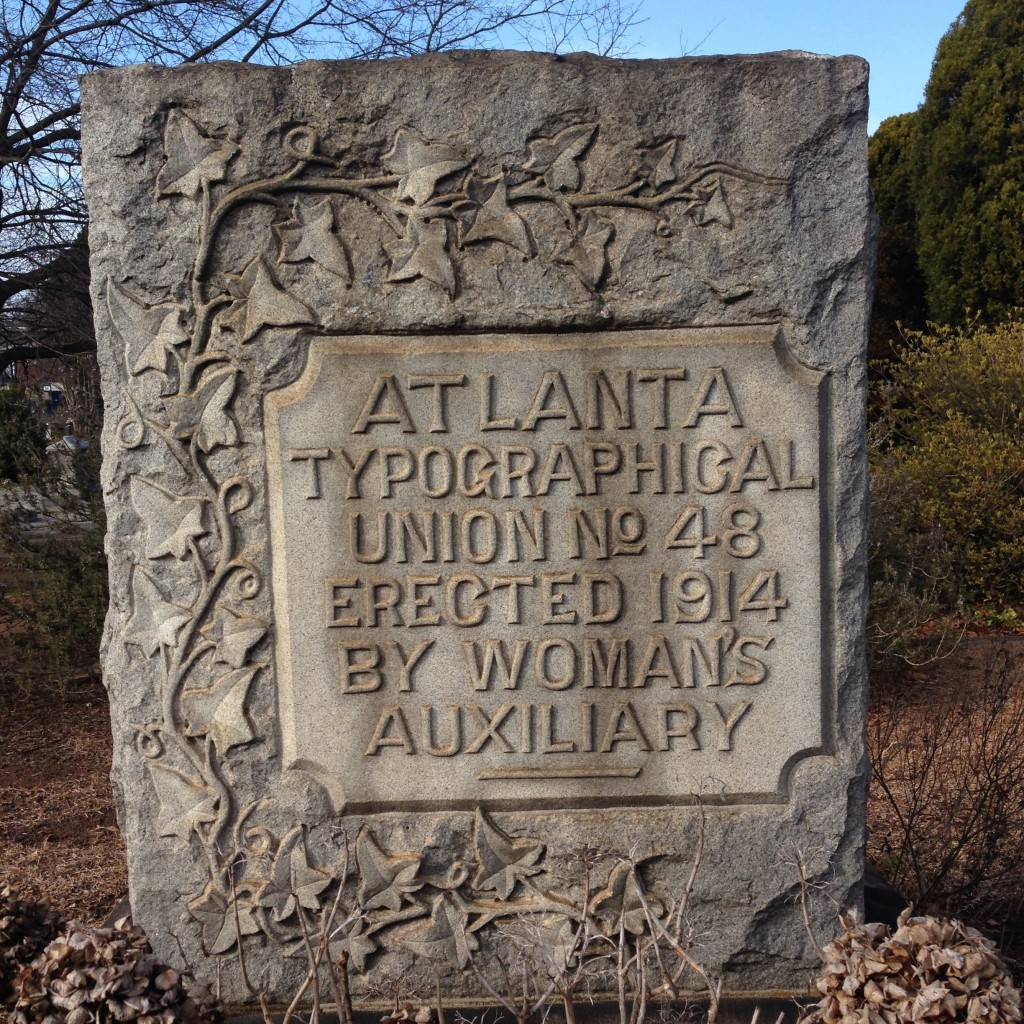 I have to note: I believe that I got a very limited view of Atlanta, one that shielded me from the experience of urban poverty that it suffers – but I was able to witness something that was to becoming a theme throughout the journey: the massive re-urbanization taking place across America in most of the major cities, one that goes hand-in-hand with gentrification, inflated real estate and rental prices, and the displacement of underprivileged classes. It's a paradoxical story, and one that many people have told and are capable of telling far more eloquently than me, but I'll touch on it more as we go forward – it's not Atlanta alone that's seeing its city core refurbished and resold; it's not just Atlanta that's seeing money move in and the people with less money move out, but it is where I got my first glimpse of the phenomenon in the South, and it gave me a notion to pay attention to it elsewhere.