I set out from Carrollton, GA on February 26th, and headed west toward Huntsville, AL. There'd been auspicious weather reports about heavy rain, snow, or if the temperature hovered in the right range, an ice storm. Being from Buffalo, I was undaunted – but less than an hour into the drive, the weather took a turn for the worse as fat, heavy, wet snowflakes fell and began building up on the road. Twenty minutes later, it had only gotten worse, and I was starting to see cars near me on the highway fishtail and careen off the road. "Amateurs" I thought to myself. But after seeing more than 20 cars off the road and slowing to a crawl, I rethought my strategy of pushing ahead. I'd barely made it halfway, and the closest town with a cheap motel was Gadsden, AL. I sighed, ponied up $50 for a spartan little room next to a pond, and hit the local box store for provisions (beer & berries & brie). After that, there was nothing to do but post up and watch the flakes fall – I knew it was bad, but I had no idea it was going to be the largest one-day snowfall in AL in recorded history. It was time to tell Green Pea Press that I'd be a little late.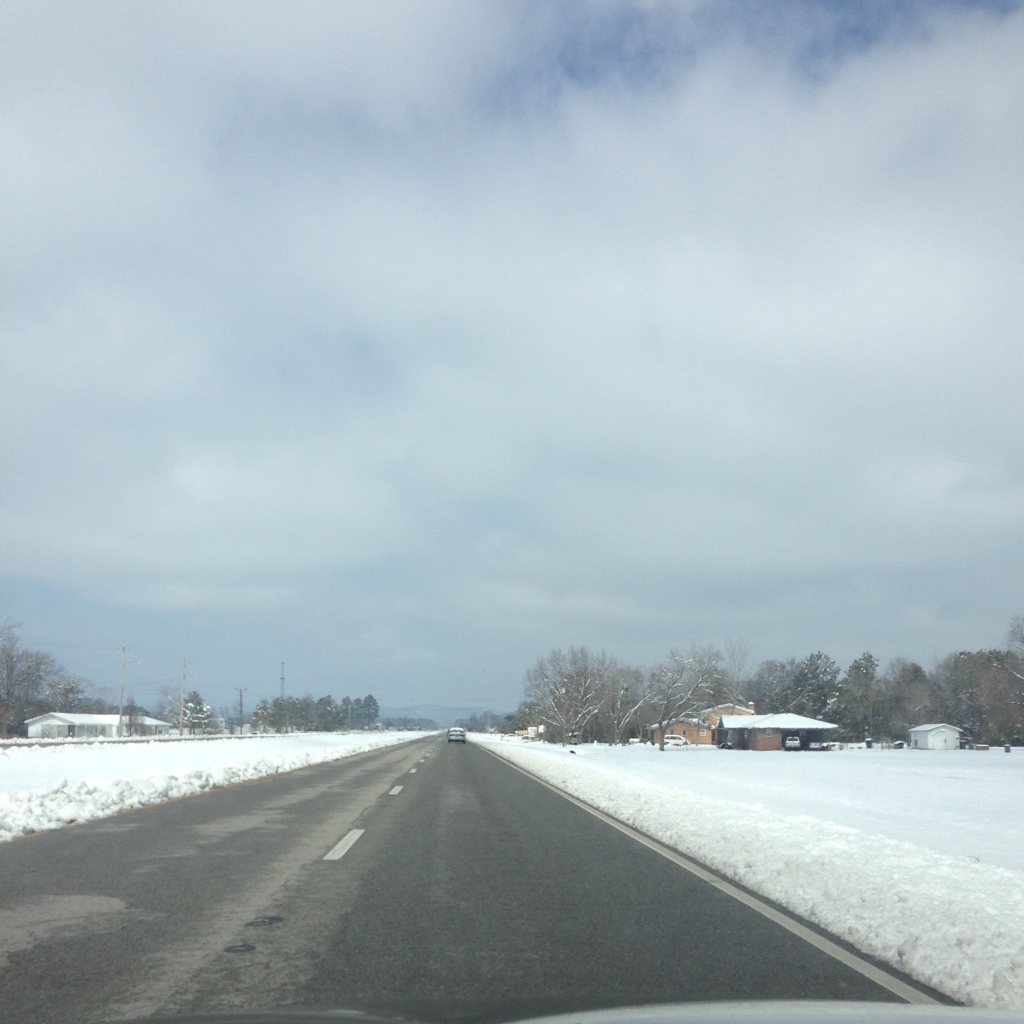 I woke to blue skies, but an unsettling quiet. The snow was melting, but the roads were still covered. I saw no bodies. I saw no cars. I began to wonder if this was a magic storm that took people and left snow. Or maybe everyone was busy helping the countless drivers who'd spun off the road. Either way, it was time for me to keep moving. It felt apocalyptic – every store, restaurant, and gas station was closed – so I started pretending I was the last person on earth and thinking about what I'd do to procure what I needed. Luckily I wouldn't actually have to do that; within an hour I was getting close to Huntsville, and began to see signs of life again. As I turned into the Lowe Mill Arts & Entertainment building where GPP is located, the apocalypse fantasy had lost its charm and I began thinking about lunch.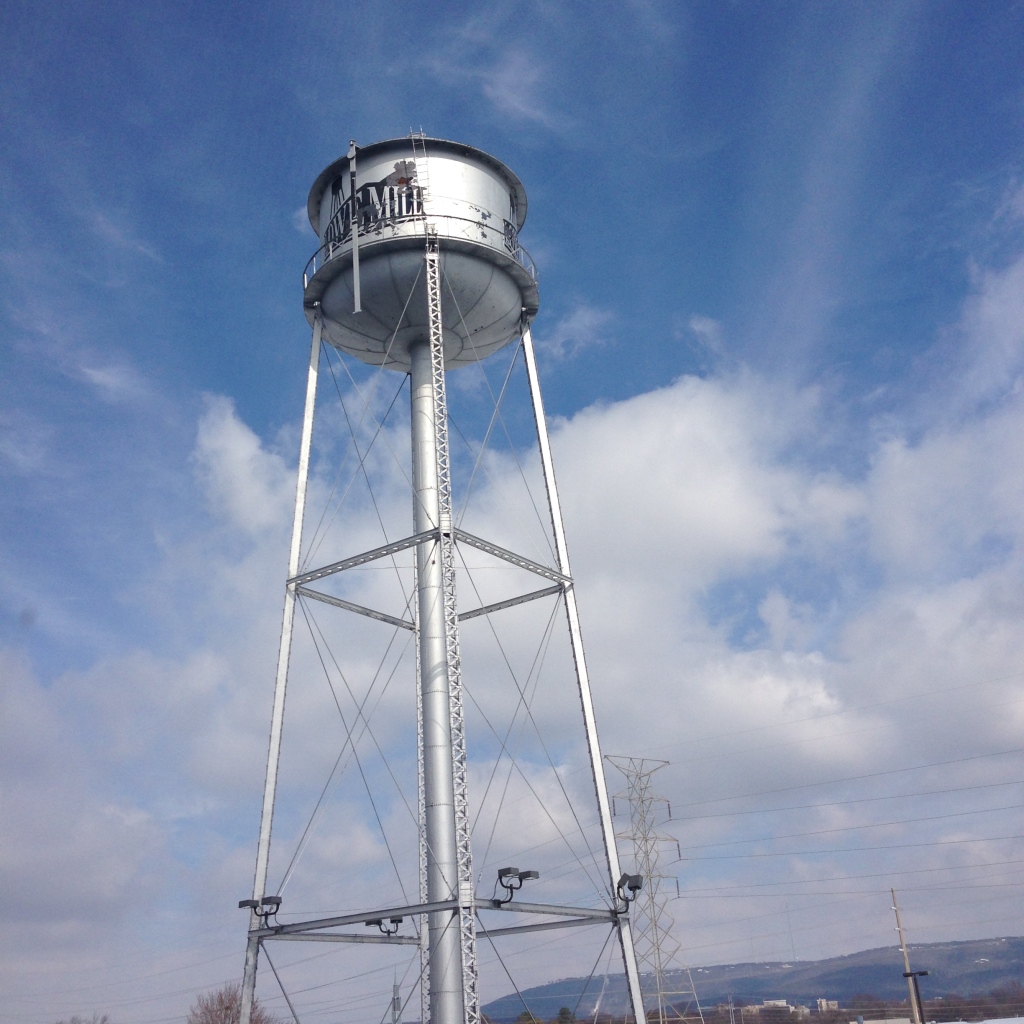 I met Rachel Lackey, owner/operator of GPP outside the massive repurposed mill that houses hundreds of artist's studios & retail spaces (it's actually the largest in America). She has an unwavering smile & an infectious laugh; we joked as we toured the print shop and wandered around the empty mill. GPP is a privately-owned community-based print shop that teaches letterpress, screenprinting, and intaglio workshops. It has a strong earned-income model based on small-scale commercial screenprinting and an adjacent retail space (lovingly called The Pea Pod); in its five-year history it's continued to expand, and recently had to move screenprinting operations to a different building offsite to accommodate demand & free up the space in the Mill to be more art/workshop focused. The shop boasts a 12" x 18" C & P from 1914, a Challenge Proof Press, a 3" x 5" Kelsey, assorted wood and metal types, assorted screenprinting sundries, and a 3' x 4' handbuilt etching press. It's well-equipped for a smaller space, and it's clearly well-loved (in terms of being well-used, but also in terms of being highly regarded by everyone in the city – if there's one thing Rachel knows how to do, it's make friends & build community).
Huntsville is a unique town – dubbed "Rocket City," it's where the majority of the engineering for many N.A.S.A. programs took place; it wears this legacy proudly on its sleeve. The combination of a mid-sized city with a viable economy full of high-paying jobs means good things for the arts – there's an audience that has money, there's a tax base to support community programs, and there's a need for a counterbalance to all the math & science. Lowe Mill is bustling every day that it's open, but especially on the weekends. It was great to see so many people so invested in a place where I least expected it.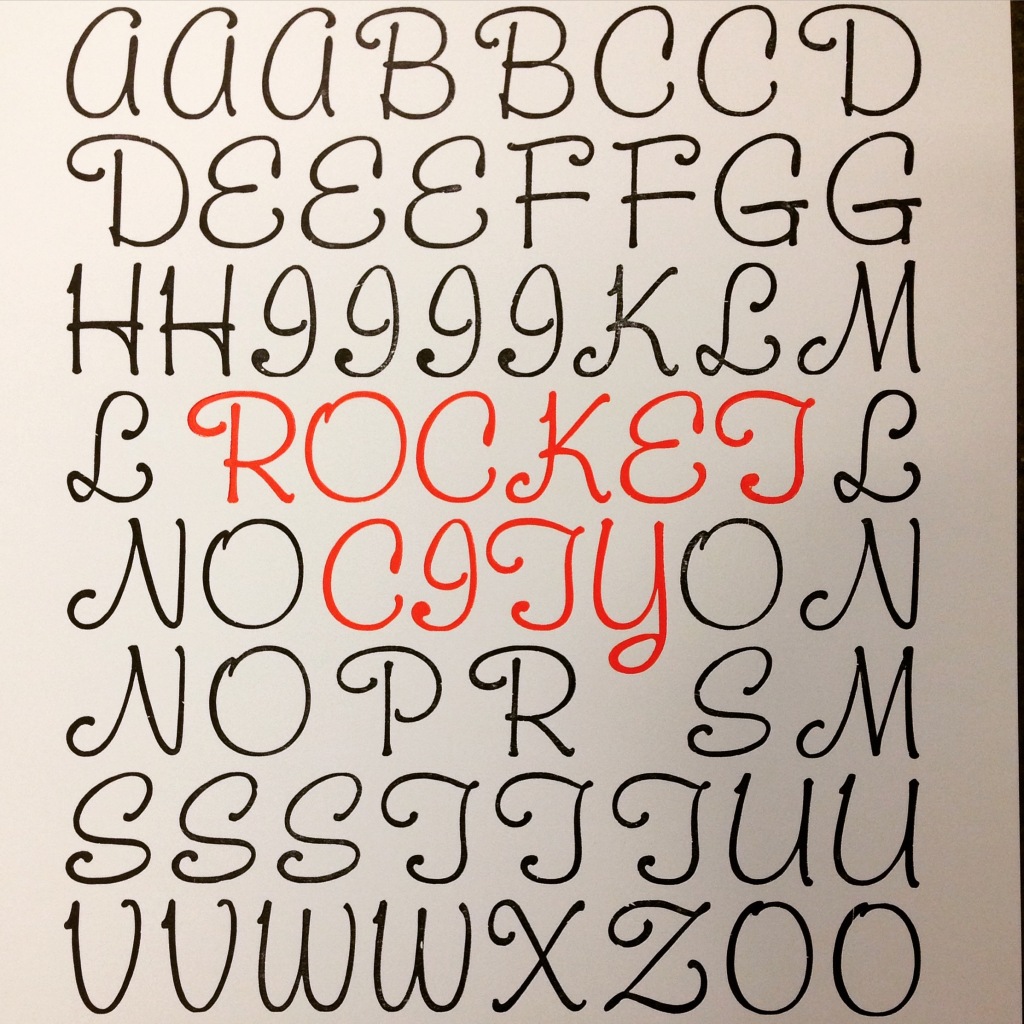 Coincidentally (but appropriately)I found a wood typeface called "Starlight" made by the Showcard Company to print at GPP. It's a bizarre & intriguing script face that we put to use on a non-standard specimen sheet. In addition to the poster-sized specimen, I found two hollow people (morticed figures) and a great shaded metal typeface called Halftone that I combined to create a postcard.
I spent a lot longer in Huntsville and at Green Pea Press than many of the places I've stopped along the way; it was the perfect place for a rest, the perfect place to see rockets and spaceships (I spent an entire day running around the U.S. Space & Rocket Center like a 10 year old), and the perfect place to continue to have my assumptions about the south and small cities undermined by good people.